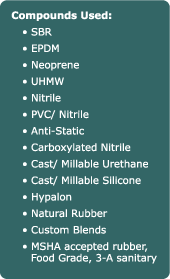 Mid-West Innovators, Inc. is your manufacturer and supplier of a broad spectrum of rubber, plastic and powder coated products. We offer outstanding capabilities in design, fabrication and application requirements to meet a wide range of product protection and enhancement challenges. MWI specializes in roller coverings that perform to your highest expectations.
Our technical experts and customer service personnel will assist you in selecting a compound to customize the product that is right for your applications. We also provide standard-product options at a competitive price with a quick delivery.
Industries served: Material Handling, Industrial, Food, Automotive, Paper, Glass, Textile, Agricultural, Marine, Electronics, Steel Mills and more.
Products
MWI offers a wide variety of products and custom solutions:
Specialized roller coatings
Vulcanized rubber lagging/coating
Thermoset, Thermoplastic and Millable Urethane coatings
Complete line of plastics
Custom-made specialty tapered coatings
Rubber, Urethane and Plastic Sleeve coverings
Fluoropolymers and release products including heat-shrink, Teflon®, silicone and specialty plastics with added lubricity.
Custom-formulated combinations of rubber, plastics and other materials for superior product features.
Frame Protection (Conveyor Guarding) products.
Powder Coating for industrial, commercial and retail applications.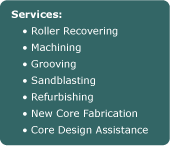 Items Available:
Rubber Spacers
Tapered Roller Coatings

Capabilities:
We offer quality roller coverings as well as numerous other products, quoted fast, with short lead-times and on-time deliveries at competitive prices. We have full machine shop capabilities for custom-made rubber, urethane, plastic and metal products with 100% quality inspection.
Covering length capabilities to 144" L and diameter to 60" OD, depending on coating choice and roller design.
Durometer range of 30-95 shore A and up to 75 shore D.