Plastic Coverings
Plastics are designed with immense variation in properties including heat tolerance, hardness, resiliency and many others. The adaptability combined with the general uniformity of plastic's composition and its light weight characteristics ensures its use in almost all industrial segments.

Plastics, if properly applied, will perform functions at a cost that other materials cannot match.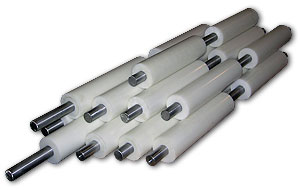 Advantages of plastic:
Lightweight
High wear resistance
High impact resistance
Self lubricating properties
Corrosion resistance
Chemical resistance
Significant cost savings
Plastic coatings available:

Teflon® – is well-known for its chemical resistance, low COF (non-stick qualities). It is a dense material with excellent electrical properties.

Plastisol / PVC – is highly recommended for applications where acid and alkalies are in high concentration.

Vinyl – often chosen over other materials because of its low cost, versatility and performance properties as well as its excellent chemical resistance.

UHMW – is well-suited for applications where durability and low friction are of great importance.

Nylon – its combination of physical properties (toughness, wear resistance, tensile strength and lubricity) and reasonable price make it a favorite choice for numerous applications.

Plastic coverings are commonly found in:
Material Handling industry
Wash-down applications
Harsh chemical environments
Contact us for more information or complete and return our sleeve covering estimate form so that we may provide you with a quotation.