Urethane Coatings
Urethane elastomers are unique because they combine many of the advantages of rigid plastics, metals and ceramics with the elasticity of rubber. Urethane resists abrasion and reduces the affects of shock and impact on load bearing capacity. Urethane is stable in most industrial solvents, performs well in temperatures up to 185 degrees Fahrenheit, and is stable over long periods of time. It does not suffer the effects of aging like rubber can in some applications.
Urethane is an extremely versatile material that can be molded to most any specification. It can be formulated to achieve a wide range of hardnesses and characteristics required by various industrial applications.
The superior characteristics of urethane include: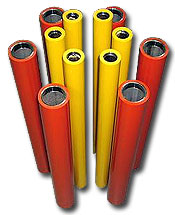 High Impact Resistance
High Tear Resistance
High Abrasion Resistance
High Energy Absorption
Excellent Wear Characteristics
Resistance to Solvents
Available in two basic chemical types:
Polyether-based urethane is usually selected for its weatherability, resistance to abrasion, cooler running temperature in dynamic applications and capability to bear heavy loads.
Polyester-based urethane may be affected by moisture, but is more elastic, oil, cut, and abrasion resistant, and is capable of bearing slightly greater loads. It has a higher hysteresis factor than polyether, absorbing kinetic energy through conversion to heat energy for greater dampening.
Urethane coverings are commonly found in the following industries: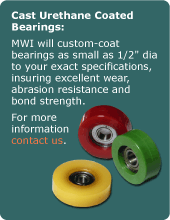 Material Handling
Automotive
Laminating
Steel
Contact us for more information or complete and return our roller coating/relag estimate form so that we may provide you with a quotation.