Rubber Coatings
Through out time, due to industry standards and requirements, various rubber compounds have been formulated to produce the best possible products, thus assuring efficient, trouble-free manufacturing and utilization of these products.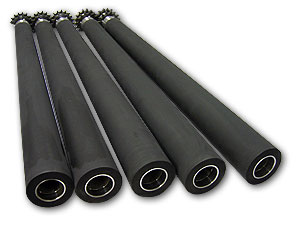 Rubber materials are characterized by their high degree of flexibility and elasticity (high reversible elongation or resilience). Rubber compounds are utilized extensively due to their good shock and sound absorption, impact resistance and good rebound properties.
MWI offers roller coatings made of:
Natural Rubber – has mechanical properties such as outstanding resiliency and abrasion resistance that make it suitable for a number of applications.
SBR – provides very fine abrasion, wear, and tensile strength qualities and can be readily substituted for Natural Rubber in many applications with significant cost savings.
Neoprene – good mechanical properties, very versatile all-purpose rubber compound.
Nitrile – outperforms most other rubber compounds in oil and gasoline resistance.
Carboxylated Nitrile – has outstanding abrasion resistance and chemical resistance.
Hypalon – has a broad range of valuable properties and is known for high-temperature resistance.
EPDM – balance of physical properties and chemical resistance, high-temperature resistance.
MSHA Accepted Rubber – meets all Mine Safety And Health Administration's requirements for flame resistant solid products taken into mines. Acceptance Marking No. "MSHA IC-230/0".
Millable Urethane – a synthetic rubber that is processed on typical rubber processing equipment. It has extremely good wear resistance and excellent solvent resistance. This compound offers the benefits of rubber and the durability of urethane.
Cast Urethane - combines many of the advantages of rigid plastics, metals and ceramics with the elasticity of rubber.
For detailed properties information click here.
Rubber coverings are commonly found in the following industries to name a few:
Material Handling
Laminating
Packaging
Paper
Glass
Agricultural
Contact us for more information or complete and return our roller coating/relag estimate form so that we may provide you with a quotation.